Services
Looking for singing lessons in the Sydney CBD or Inner West?
Kathleen Connell offers casual or continuing singing lessons to assist with:
✔  Auditioning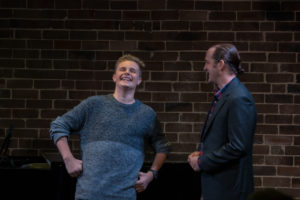 ✔  Competitions and Eisteddfods
✔  Professional singing
✔  Singing exam preparations
✔  HSC preparation (for individuals or local schools)
✔  Acting and singing
✔  Instrument playing
✔  Singing for fun
Multi-Disciplined Approach to Singing Tuition
Kathleen's passion and knowledge of singing is evident in her teaching. Her balanced yet firm and caring approach encourages you develop a singing technique that will strengthen your voice and ensure you use your voice correctly. She uses a number of modern and well founded techniques to teach with
individual and personal care.
Developing strong vocal technique
Kathleen's singing lessons are centred on developing a strong vocal technique across a range of singing styles. This includes:
Respiratory (the breathing muscles)
Phonation (the sound producing muscles)
Resonation (the sound quality muscles)
Articulation (the sound shaping muscles)
Register transitions and range extension
By using exercises such as scales, arpeggios, triads, songlets and rhythmic drills, Kathleen will help refine your singing pitch and rhythmic practice. This will develop your repertoire and help you choose songs that suit your voice, personality and ability.
Lessons will also assist in enhancing your singing performance skills, such as practice methods, stage presence, exam and audition skills, and actor/singer development.
Singing Lessons for beginners to pre-professional students
An individual assessment will help Kathleen develop a tailored program of singing lessons to meet your goals.
All musical styles are explored and a specialisation that meets your need is encouraged
Training in the fundamentals of music if required
60 minutes lessons are preferable as progress can be monitored
40 minutes lessons are available to students under the age of 18
There are a range of packages to suit your singing goals and lifestyle. Lessons can be booked on a casual basis or as a block of lessons for a reduced rate. All fees are GST inclusive:
Introductory Lesson
The 50-minute introductory lesson is for students looking to kick-start singing lessons. It gives you a sneak peek into Kathleen's teaching style, as well as an opportunity to identify your singing goals. Kathleen provides personalised technical feedback during this session.
Duration: 50 mins | Cost: $95
Opus: 10-week block of lessons
A cost-effective approach to singing tuition that allows detailed and ongoing technical work. Expand your repertoire by exploring a range of songs and work towards a specific goal.
Duration: 60 mins | Package Cost: $990
Album: 5-week block of lessons
A targeted five-week block of lessons that hones a specific technical skill, such as breathing and vocal range, and introduces a song.
Duration: 60 mins | Package Cost: $550
Single Lesson
Designed for technically advanced singers preparing for an audition or similar. Specialist coaching to polish your technical skills and repertoire choice.
Duration: 60 mins | Cost: $120 (Single lesson only)
For more information download our brochure here.
Learn how to sing with a strong flexible voice. Contact Kathleen to arrange an initial appointment