Why Choose
So many students choose Kathleen Connell for singing lessons.  Here's why: 
✔  Success!  Many of Kathleen's students work in the industry and/or are being offered rare places in conservatoriums and universities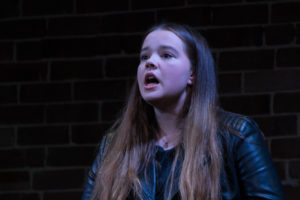 As a result of Kathleen Connell's singing lessons, many of her students have gone on to achieve excellent results and success.  Read about her student's success stories.  Also, find out what her students really think of her singing lessons.
✔  With her musical training, Kathleen Connell will bring out the best in your singing voice.
Kathleen has extensive, current musical training, particularly in the art of teaching singing.  She has expertise in:  voice anatomy, physiology, general pedagogy (the teaching of singing), repairing technical issues in singing, exercise and warm up exercises, choosing the most appropriate songs for your voice, and much more.  If you are willing to put in the time and effort, Kathleen will be able to bring out the very best in your singing voice.  As the saying goes, 'You get out what you put in'.
✔  Current, up-to-date training to ensure that you sing to industry standards while learning in a friendly and supportive environment
Kathleen Connell has devoted herself to lifelong learning, which allows her to keep abreast of changes within the industry. Her ongoing training and professional development also allows her to cater to different learning styles and circumstances, so that you will learn in a friendly and supportive environment.  Kathleen sees Professional Development as an integral part of being a singing teacher, it is important for both herself and her students.
✔  You'll receive expert singing lessons from a singing teacher, not a 'song' teacher.
A song teacher can teach you how to sing a particular song, but Kathleen Connell teaches you strong, robust and flexible singing techniques so that you can use your voice to sing a multitude of songs across a range of styles.  You'll see consistent improvement in your vocal technique, and your voice and knowledge will strengthen and improve during every singing lesson.
✔  More than just singing lessons.  You'll learn performance skills that are underpinned by healthy vocal techniques.
As an experienced singing teacher, Kathleen Connell teaches you more than just 'how to sing', she teaches you how to: move, convey a song's meaning, share emotion and connect with your audience.  She will also show you how to deal with performance anxiety.
For those who play an instrument, such as a guitar or piano, Kathleen will show you how to improve your posture and breathing so that you have a relaxed and upright spine for singing and playing.
✔  You'll have a singing teacher with vast experience
Kathleen Connell has worked as a professional singer for over 20 years, both as a permanent artist and freelance artist for many of Australia's major arts companies. She has performed at a wide range of events including: sporting fixtures, national celebrations, tourist events, festivals, concerts, recitals, recordings and television & radio programs.
✔  You'll be taught by a Workshop and Master Class presenter
On top of offering singing lessons, Kathleen also runs Workshops and Master Classes.  The workshops can cover anything from performing skills to singing techniques, and they are an excellent way to reinforce and enhance what you are learning during your singing lessons, but in a supportive and exciting group environment.
✔  You'll be taught by a Competition and  Eisteddfod Adjudicator
As a Competitions and Eisteddfod Adjudicator, Kathleen knows exactly how to judge a singer's ability and performance.   Aside from knowing what adjudicators are looking for, it gives her the additional expertise and experience to bring out these skills in her own singers.
✔  You will be listened to
Kathleen will listen to your aspirations and concerns, offering friendly guidance and support, including the adjustment of ideas where necessary. Her extensive experience also means that she can offer you expert guidance choosing an appropriate repertoire of songs for your age, gender and stylistic requirements.
✔  You'll have the opportunity to perform, giving you valuable performance experience
With Kathleen Connell you'll have the opportunity to perform twice a year at her studio concert.  It's a place to test your work, gain performance experience and be
inspired – all in a supportive environment.
✔  Enjoy an introductory lesson
The best way to find out if Kathleen Connell is the right singing teacher for you is by trying an introductory singing lesson.   The introductory singing lesson is a time to demonstrate: what is involved, the method, the exercises and the teaching style. It's also a time to talk about the process and commitment, so that you can make an informed decision about whether you want to pursue singing lessons.
✔  Competitively-priced fees so that professional singing lessons are accessible to all people
If you're looking for a low-cost singing teacher, Kathleen Connell is not the teacher for you.  However, if you're looking for a competitively-priced, professional singing teacher who, (based on years of experience and current training) is able to teach you how to sing and perform to the best of your ability, you have come to the right place.
Kathleen Connell has cost-effective fee packages to suit your budget.  Best of all, singing lessons can be booked on a casual basis or as a block of lessons at a reduced rate.   Rest assured, you are never locked into a singing lesson contract.
✔  Learn to sing in many styles
Kathleen Connell can teach you how to sing in many styles, including:
Contemporary
Classical styles, including art song (English), French Melodie, German Lied and Spanish Cantare
Popular styles
Jazz
Musical theatre
✔  You'll receive regular newsletters with articles on singing tips
Your learning doesn't end when you leave the studio.  You can keep up to date with singing tips and singing news by reading Kathleen's newsletter and blog.
✔  Two well-resourced studios at two convenient locations
Kathleen Connell teaches at two conveniently-located studios.  She teaches at Hurlstone Park every weekday apart from Thursday.  City studio George Street in Sydney CBD is on Thursdays.  Both locations are well resourced with a huge range of printed and online music.
Learn how to sing from a professional and experienced industry professional.  For singing lessons in Sydney, contact one of Sydney's most experienced singing teachers, Kathleen Connell.